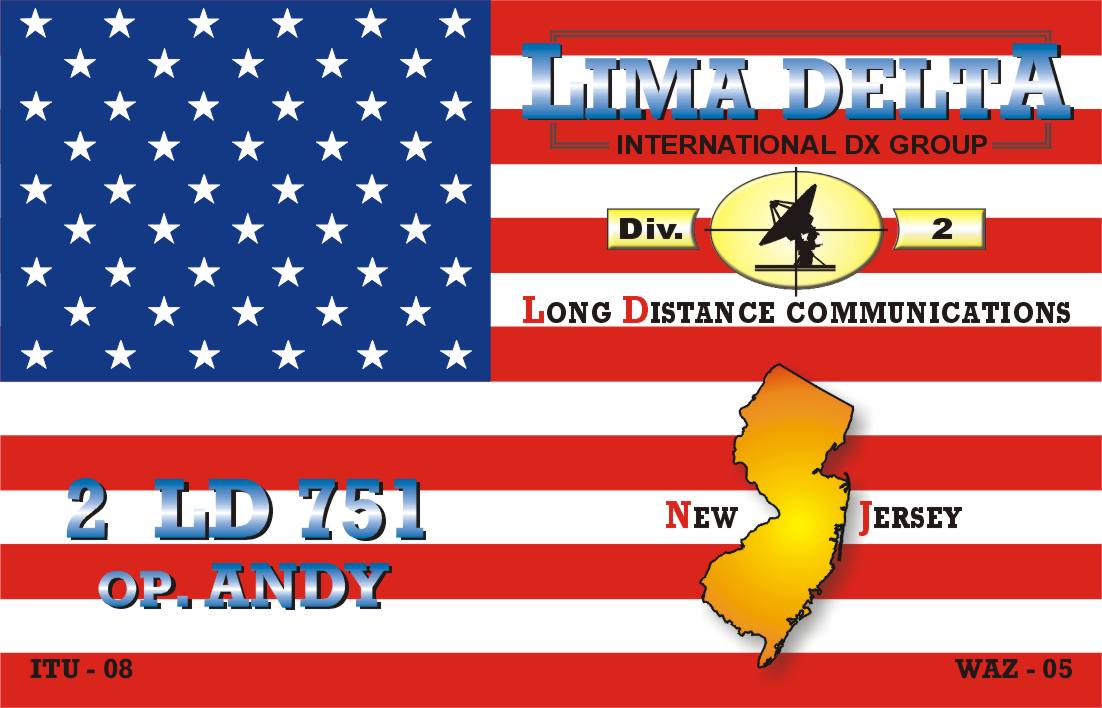 Welcome to my web page dedicated to CB Radio, also known as 11 meters. I am Andy and I live in Beachwood, NJ, a short distance from the infamous "Jersey Shore". Beachwood is located about 45 miles (about 72k) directly south of New York City and about 40 miles (about 64k) north of Atlantic City.

I have used the handle "Medicine Man" in Toms River NJ, Edison NJ, Ft. Belvoir/Woodbridge VA, Ft. Campbell KY/Clarksville TN and Newport, RI. I am also into "DXing" on 11 meters. While in TN, I was part of the "World Wide Bandits".

I am now a member in the Lima Delta DX Group based out of Italy and my "call sign" is 2LD751. For information on the club, please follow the links to the Lima Delta homepage
This view of Toms River is from the west looking east. In the foreground is a prominent road from north to south which is the Garden State Parkway. Just to the left of the beginning of the river is the town of Toms River. The line extending from the north to the east is route 37, which goes over the bridge to Seaside. The prominent line on the right which extends east was once a railroad running through Beachwood, Pine Beach and into Ocean Gate where it once went across the bay to Seaside. The line running from center to upper right is route 9 which bends to the south. The faint line just below the horizon is the "Seaside" barrier island and beyond that is the Atlantic Ocean.

As you can see, my QTH is located to the left of the picture.

This information and photo was obtained from http://www.oceancountygov.com/photos/toms_riv.htm.
My Radio Equipment

Radio: Yaesu FT-100D HF+6/2m/70cm mobile radio

Microphone: Heil HM-10 microphone with HC-5 element on SB-1 "small mic boom", activated by FS-1 foot switch.

Imax 2000 5/8 wave vertical antenna @7 meters above the ground
The Links!

If you have a link that you would like me to add

, send me feedback (above) and I will add it as soon as I can!


Lima Delta URL's and Email Links:

Dario 1LD131 - President of Lima Delta email homepage (LD HQ)

Paolo 1LD242 - Director Italy Division email homepage (LD Italy)

Grady 2LD106 - Director USA Division email homepage (LD USA)

Laurent 14LD127 - Director France Division email homepage (LD France)

Jan 19LD102 - Director Holland Division email homepage (LD Holland)

Luis 30LD103 - Director Spain Division email homepage (LD Spain)

Ian 43LD117 - Director Australia Division email homepage (LD Australia)

Paolo 1LD020 - Awards Manager email homepage (LD Awards)

Lima Delta Personal Web Pages

Neil 26LD101 Little Roger 2LD108 Grady 2LD106 Luis 30LD001

Other Personal Web Pages

Bandit's Radio Shack CB Mack's Page Sommerkamp Radio Page Homepage of 14IF9330 India Fox DX Group Homepage

Non-Personal Web Pages

CBSource.com The 11 Meter Directory Prefix/IOTA List (From WWDX) Near Real-Time MUF Map Copper Electronics

Amateur Electronic Supply Ham Radio Outlet
Recommend my site to other 11 meter operators my clicking on the button below!

Please take a moment to sign/view my guest book!


Submit your page to 34 popular sites for free, using one form!

Comments? Questions? Compliments? Complaints? Kudo's? Atta-boys? Email me!